This website was last was UPDATED on 06/08/2016.

Regrettably, I must cancel the July 2nd CHP class. Deposits will be refunded tomorrow, 06/09/2016.

INTERESTING NEWS: Dec. 3, 2015 - (democrat) Ulster County NY Sheriff urging all who are "licensed to carry a handgun" to do so! Check it out!
In light of recent jihadi attacks here in the US, France and Belgium, I believe we should all heed Sheriff Van Blarcum's advice! OF course, in VA you don't need to be licensed to carry a handgun openly, but it is incumbent on everyone who does carry a firearm to know how to do it legally. To that end, you should take a handgun safety class that also covers the basics of VA Firearms law, such as the CHP classes I offer below.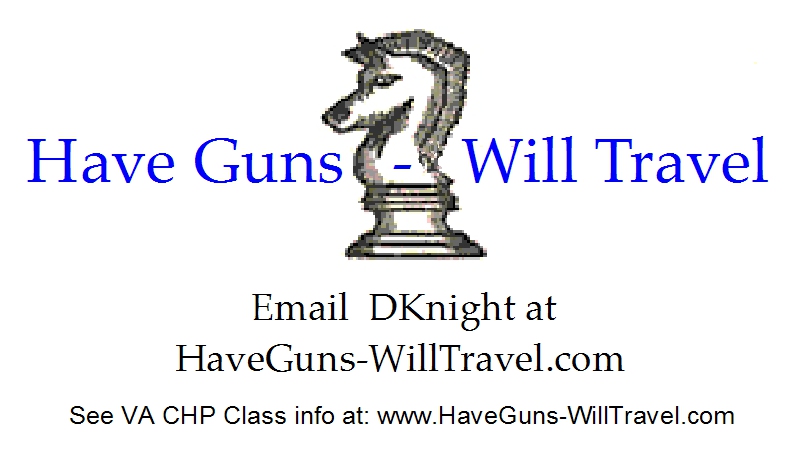 At www.HaveGuns-WillTravel.com, we provide Firearm instruction (certificate qualifies as "proof of training" for VA CHP applicants) for organizations, or groups of individuals, as needed.
---
Scheduled Classes:




---




Handgun Safety & Virginia Concealed Handgun Permit (CHP) Classes
in and around Radford
by Dave Knight




HANDS-ON gun safety & marksmanship exercises: Unlike many CHP classes in this area, we provide hands-on gun safety and basic marksmanship exercises. Don't be short-changed by classes that don't provide hands-on training! These exercises are especially important for folks who have never shot a handgun, or have only shot rifles and/or shotguns!

INTRO to VA legal carry: This CHP Class, taught by an NRA-certified Firearms Instructor, Chief Range Safety Officer, and former Reserve Deputy Sheriff, includes an introduction to current Virginia gun law. Carrying a firearm without knowing how to do it legally is the height of foolishness!

VA CHP "Proof of Training" Certificate: The certificate awarded after passing the written test fulfils the VA statutory requirement for "proof of training" for Concealed Handgun Permit applicants.

COST & DURATION: Cost: $50 per student (some discounts may be granted to church groups, civic organizations and other groups)

Duration: approximately 3 to 4 hours, depending on class size and student experience level.

To schedule a class for 3 or more persons, please contact me at:

David Knight, P.O. Box 394, Radford, VA 24143
diemkae@gmail.com
540-639-2361 or 540-250-4555


Please be sure to include your contact info (name, address, phone, email, organization, etc), the desired date, and the approximate number of students expected.

Please email me at diemkae@gmail.com, or Call 540-639-2361 to schedule a class.

Cancellations & Refunds: funds deposited for classroom & seat reservations are not refundable unless a written cancellation (emailed to diemkae@gmail.com or hard-copy mailed by USPS to the address above, with delivery tracking) is received at least seven (7) calendar days before the class date. If a class is cancelled, all deposited funds for that class will be refunded within 7 days of the cancellation.
---
Scroll down to see some new/updated sections:

Useful Videos
Useful Forms
Just For Fun

Please also check out the new list of upcoming SWVA VCDL Events!


---
Useful Videos: Intro to Reloading, outline (PDF) and videos, as presented at the August 25th VCDL Supper Meeting

NSSF videos: McGruff/K-6, It's Your Call/6-9, Firearm Safety Depends on You/general, Intro to Range Safety & Ettiquette/general, plus lots of other info
---
Useful Forms:

Fireams Qualification Form for Doctors

Other Documents:

Atty General opinion re: "Good and sufficient reason" (for church carry) in 18.2-283

Atty General opinion re: "State-certified [firearms] instructor"

Atty General opinion re: "Gun bans by private organizations on leased Public Lands"
---
Just for fun:

Our illustrious Vice President may have given new meaning to the popular dessert "Death By Chocolate" ... "Just Desserts", perhaps?

Check it out: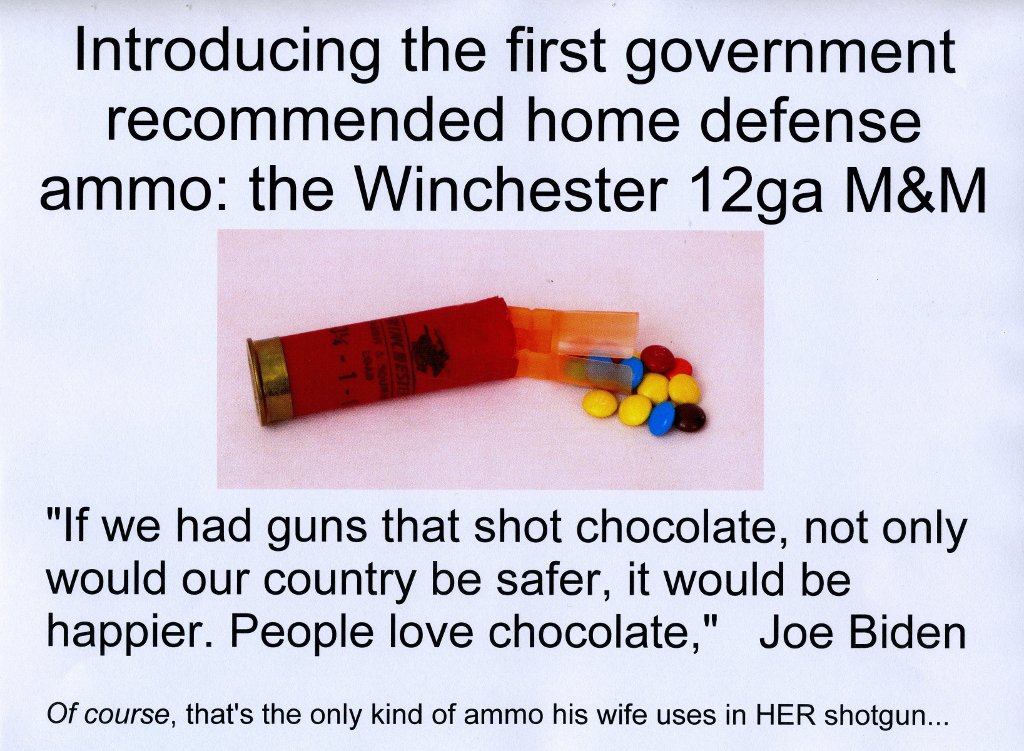 ---